In addition to executing numerous smaller projects on an ongoing basis, including ornamental stone work, fireplaces, paneled rooms, we have written the preservation programs for individual clients and historical societies.
Recently, J.M. Kelley Ltd. has been selected as a consultant and contractor to the Metropolitan Museum of Art. in addition to documenting and moving early Dutch vernacular house to the third floor of the American Wing, he has been called upon to move and reconstruct some of the important eigthteenth century interiors for the redesign of the American Wing.
Here are examples of the projects we undertake.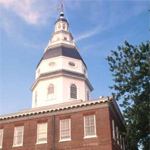 In December 2012, we had an opportunity to assist in the documentation phase of the restoration of the Old Senate Chamber of the Maryland State House in Annapolis, MD. As the Maryland State Archives describes the Chamber on its history website "The jewel of the Maryland State House is the Old Senate Chamber, where the Continental Congress met while Annapolis was the capital of the United States from November 1783 - August 1784. It was here that General George Washington, on December 23, 1783, came before Congress to resign his commission as Commander-in-Chief of the Continental Army in an emotional ceremony. Continue Reading...